Initially, I had planned on retiring my pen and notepad, and hanging up blogging to concentrate on my West Coast Morpheus cosplay page, but I decided to break off a quick one for the last remaining comic show in Northern California, BigWow! Comicfest.


BigWow! is held at the San Jose Convention Center, which has ample space for mid-size to large conventions.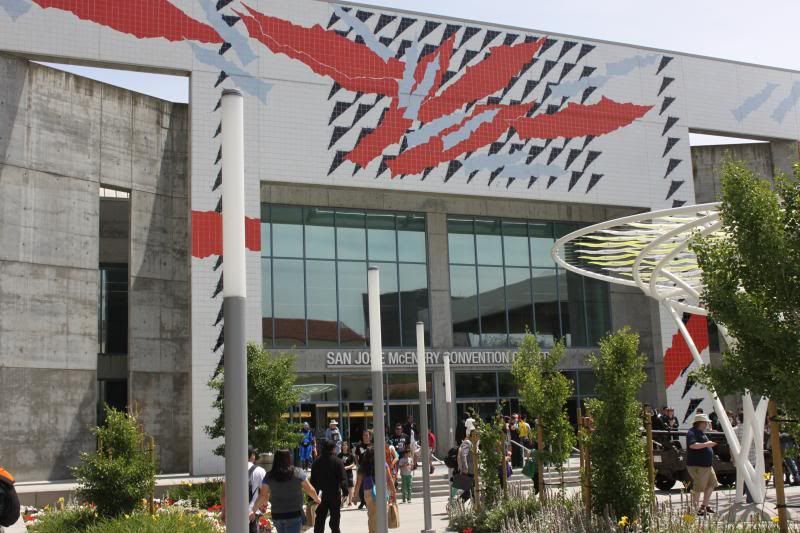 It would have been nice if there were some workers or convention assistants to tell you where the lines started when you first arrived. There was a Yugioh tournament going on simultaneously, so there were lines and people all over the place, and nobody knew where to line up.



This year, they expanded the hall, which provided more space and eliminated crowding and bottlenecks of human traffic. You could additionally feel the air conditioning this year, which thankfully, was cranked up full-blast.



To start out, if you want to see celebrities, this is NOT the show for you. This show is a homage to the ghost of ComicCon past; it was all about comics and art, and I enjoy seeing these shows get back to their roots.






Nicole Brune is very sweet, and I love her artwork! It would have been nice if she had the mermaid print behind her, though. Perhaps she'll have it at the next show.

There were several noteworthy guests, but this show seemed to lack the *umph* to draw in the casual fan. Neil Adams and Humberto Ramos were in attendance, but they were charging for signatures, which seems a bit greedy to me. I've seen and met bigger stars that didn't charge for photo-ops and signatures.





Ramos was charging $15 to sign Amazing Spider-Man #1. Why? I have no idea. Perhaps his people checked eBay and saw what the going rates were for signed books and wanted a piece of the action. I should have asked, but the sheer shock threw me for a loop. For all other books, it was the first signature free and $5 thereafter, which was usually the norm for Ramos.

It costs $50 for a 2-day pass, and they're charging $XX to scribble their signature on the cover of a book. On top of admission and parking, it seems like they're nickel and diming you when they charge so much to sign. I completely understand charging for a sketch, but a signature on top of everything else you have to pay for at these shows just annoys me.

The main attraction for this show was Kenpachiro Satsuma, the guy that wore the classic rubber Godzilla suit and Satoshi Furuya, the guy that wore the Ultraman costume.



With the release of the Godzilla movie, this was a rather big deal and the timing was spot-on. I brought some Ultraman comics that I was hoping to get signed… until I found out how much they were charging. I'm a huge Kaiju fan, but they were charging $25 each for signatures and photo-ops, which was too much for me. Instead, I took photos of them.



The show faetured a Batman throwback museum that was pretty cool. It even had the classic 60's Batmobile on display.





The professional cosplayers were out in full force. Valerie Perez, Vampy Bit Me, Vegas PG, Jessica Nigri, Monika Lee, Ivy Doomkitty and Abby Dark Star were all terrific and engaging this weekend. Most of the day, they were involved in panels that centered around cosplaying, and offering advice to new people that want to experience the world of cosplay.



For a photo gallery of cosplayers and more shots from the show, please see my West Coast Morpheus Facebook page:

https://www.facebook.com/westcoastmorpheus

Overall, this was a nice show with an intimate con feel, the cosplayers were great as usual, and the additional space was a huge plus, but the glaring, gaping hole was the lack of current star power, and I don't mean celebrities, but big-time comic industry talent, writers and artists. Last year's show featured Stan "the Man" Lee and the year before featured Jim Lee, but this year… eh. Erik Larsen was cool, and I got him to sign my Walking Dead issue that I got from Emerald City... Free of charge... and that's how I like it!



Neal Adams and Humberto Ramos were great and all, but they were charging for simple signatures, which annoys me as I mentioned previously. At any rate, this show desperately could have used a Brian Michael Bendis, an Ivan Reis, a Jim Lee, a Geoff Johns, an Ethan Van Sciver, a Matt Fraction, a J. Scott Campbell, a Greg Horn or an Amanda Conner as must-see comic attractions. An action figure exclusive would also help improve attendance by leaps and bounds. With the aforementioned additions (or at least a few of them), that would put this show over the top, and on the road to truly replacing WonderCon in Northern California, but so far, it's not there yet. Hopefully, soon.